What Are The Advantages Of Bringing In Professional Outside Help When Doing Home Cleaning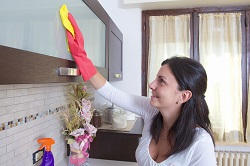 1. Gives you free time - using house cleaners can really be helpful if you are really busy and don't have much free time. Hiring outside help means that you don't have to worry about dedicating what little free time you have to cleaning, allowing you to focus on what you want to do rather than what you feel that you have to do. While you may not feel that you are spending much time doing cleaning at the moment, you will find that it is amazing how much time you will actually have on your hands if you get somebody in to help you with your cleaning. It may seem like an extravagance, but hiring a cleaning agency really can be a weight off your mind.

2. Top quality equipment - Cleaners, especially hired through a service are likely to have the highest quality equipment. This ensures that what they do within your home will be carried out to the best possible standard, potentially better than you could ever do yourself. This cleaning equipment helps with big jobs especially, such as upholstery cleaning or carpet cleaning, and, while you could hire the equipment yourself, often it isn't too much more expensive to hire help in who are already at experts in how to use the equipment, saving you the time and stress of learning.

3. Protected - Professional cleaning services are far more protected than private cleaning services which is a huge advantage if you are looking into getting help in your home. You are protected in the sense that if your cleaner cannot show up, you will be sent a replacement meaning that you don't miss out on your service, but are also protected in the case of any damages occurring in the property during the cleaning. It really helps to give you peace of mind to go with a professional cleaning service rather than to just hire local help.

4. Do the jobs that you don't want to - Many cleaners will ask what you want doing in your home, which means that you can make sure that the jobs that you want doing truly are done. If you hate cleaning your sofas or doing that yearly rug clean, cleaners will do this for you. It helps you get the clean you want, without the time, effort and stress and can be really useful if there are jobs that you struggle with doing due to various different reasons.

There are so many advantages or bringing in outside help in your home, not least the time and effort that it will save you. It is amazing how much a clean and tidy home can help you to relax and settle, and while some people do not think that outside help is the way to achieve this, if this is what helps you to feel comfortable in your home, then surely spending a little bit of money and trying out a domestic cleaning service is worth it?


You may also like:
When you make the decision to move house, there are so many things that you need to consider. From getting boxes to...
Are you one of those people whose kitchen ends up being a greasy mess every time they cook? Most people can't...